Carers Week will run from Monday 7 until Sunday 13 June 2021.
The theme is to Make Caring Visible and Valued.
This year, people across the country are continuing to face new challenges as a result of the coronavirus outbreak. Many people are taking on more caring responsibilities for their relatives and friends who are disabled, ill or older and who need support.
They need to be recognised for the difficulties they are experiencing, respected for all they are doing, and provided with information, support and understanding.
So during Carers Week, we're coming together to help Make Caring Visible and Valued.
---
Carers Week is an annual awareness campaign to bring caring right out into the open – recognising and celebrating the contribution carers make to families and communities throughout the UK.
This Carers Week, we're recognising that now, more than ever before, it's time for us to come together and help Make Caring Visible
There are 6.5 million people in the UK who are carers, yet they often feel isolated – and they are seven times more likely to say they are lonely than the general population. They will be looking after a family member or friend who has a disability, mental or physical illness, or who needs extra help as they grow older. Many carers feel isolated and that their caring role is hidden.
Everyone has a part to play in making sure these carers are seen, heard, and understood; and helping them to get the support they need to care.
This could include an employer setting up an online carers' network, a GP practice offering an annual health check or alternative appointment times to carers, or a business offering special deals or priority access for carers. Or it could be each of us reaching out to our family, friends or neighbours, who we know are caring for someone, and letting them know that we are there for them too.
For more information, please visit the official Carers Week website.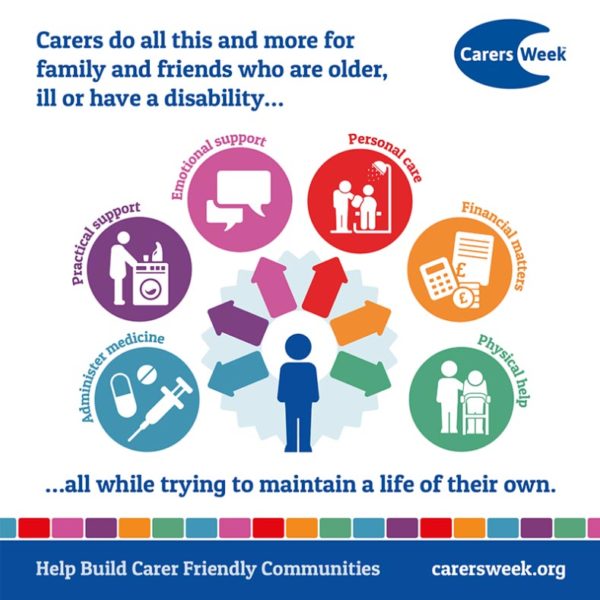 Carers Week 2020 Blogs
Carers Week 2019
From Trishaws to music, cookery, coffee and cake, Carers Week 2019 was another fantastic event. Here are some photos showing what we got up to across West Sussex.