If you haven't already stopped to consider your own emotional and physical health now is the time to do it. We would love to discuss your situation with you and help you to put together a 'plan' to take care of yourself. Registering with us as a carer opens the door to a wide range of free support to suit your needs, including:
Tailored information and support to help you with your caring role
Opportunities to meet other carers who may have similar experiences to you
Workshops which provide training and learning on topics such as welfare benefits
Support and information packs
Regular newsletter
If you would like more information about any of these services, please call us on 0300 028 8888 or email info@carerssupport.org.uk
If you're not already subscribed and would like to be added to the mailing list for our monthly updates call our Response Line on 0300 028 8888 of email us at info@carerssupport.org.uk and ask to be added to our subscription list.
Online Carer Groups
A chance to check in and say hello to other parents, to talk or just to listen, to ask questions, share experiences and learn more about our services. You are welcome to pop in for as long as you like. We meet on Zoom on the 3rd Tuesday of each month at 10:30am to 11:30am.
Information and networking events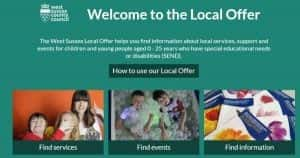 West Sussex Local Offer is the local authority's website with information about support, services, training workshops, activities and places to go for families.
Free handbooks about services and support available in West Sussex; Downloadable fact sheets and Free Workshops and Training for parents e.g.: Challenging behaviour, Sleep issues, Support in schools; Educational health Care Plans; Understanding Anxiety. Click on the images below to download the handbooks.
West Sussex Parent Carer Forum (WSPCF)
WSPCF is run by parent carers for parent carers of children and young people (0 - 25 yrs) and their families. Recognised by the DfE, the Forum provides advice, information, free workshops, events, training and signposting to local support groups across West Sussex. A positive, friendly Forum with an active, supportive Facebook page.
Local Authority Support
Requesting a Child & family assessment
MASH (Multi Agency Safeguarding Hub)
Early Help
The Early Help service provides support to families and is most easily accessed through the Children and Family Centres local to each area. Family workers in the centre provide information and make referrals for support and services within their local community. They can set up Early Help plans to liaise with schools and other agencies to support the family. They offer support in times of crisis and are able to provide food parcels/vouchers.
Due to Covid 19 The Early Help service moved their family workers to a phone - based service; they have recently moved on to sharing a single number and e-mail address with Children's Services.
The hope is that this will mean a simpler process for families and will ensure that their needs are reviewed quickly
Telephone number: 01403 229900
Email address: WSChildrenservices@westsussex.gov.uk
For more information visit https://www.westsussex.gov.uk/social-care-and-health/social-care-support/
Brothers and Sisters
Brothers and Sisters of children with a disability are often called Young Carers. This is because although they may not be directly involved in caring, their home life, school life and friendships are affected.
Sibs is a national organisation helping parents to understand and support their children through workshops, information and advice. A website with information and the opportunity to ask questions and share experiences with other children.
Benefits
West Sussex Local offer Money Matters
Links to organisations providing support and information
Step by step guide to claiming Disability Living Allowance and how to appeal a decision
Template letters for writing to official bodies such as the local council, social services and health providers
Benefit information and appeal resources
Advice about Carers Allowance. Carers UK also provide information here about PIP
Disability rights Benefit Fact sheets
Education
West Sussex Information, Advice and Support Service (IASS) help and support for parents in getting the right education for their child. Advice and one to one support with statutory assessments and statements or Education Health and Care Plans (EHCP) annual reviews, appeals and tribunals.
IPSEA free independent legally based advice around getting the right education for your child. Advice line, Tribunal advice line and downloadable template letters and resources.
Funding
Compass Card gives discounts on leisure, transport and activities for families in Brighton and Hove and West Sussex.
Family Fund provides yearly grants for low income families who are raising a disabled or seriously ill child or young person aged 17 or under. Grants can be used for white goods, holidays, days out, beds, equipment, clothes…
Turn2us is a national charity that helps people in financial hardship to gain access to welfare benefits, charitable grants and support services – online, by phone and face to face.
Workshops and Training
Understanding and Managing Behaviour, the Education System, Benefits, Money Management, Confidence in meeting with professionals, Mental health, Diagnosis and more
The following organisations are providing courses on line as e--learning, webinars and live virtual workshops. Numbers in most have been limited to ensure that people still have the chance to interact and ask questions.
Mind workshops and online training
Useful Information
Activities and play schemes for children West Sussex County Council fund different organisations to run activities for children which they call Short Breaks. The activities help them to develop confidence, socialise, build skills for independence and have fun. Some activities don't require the parent or carer to stay which allows them a short break from caring for their child.
West Sussex SEND Short Breaks have put together a simple and easy to use COVID 19 Short Breaks site. This link takes you to resources you may find useful for learning, summer holiday ideas, support and advice and exercise, as well as support for you.
Aspens (formerly Autism Sussex) Advice line, 1 – 1 behaviour clinics, Workshops, Training and Support groups for parents; 1-1 support and group activities for children and young people with ASC, Support for Siblings. Aspens are currently offering a 30 minute virtual family support clinics.
The Challenging Behaviour foundation Charity for people with severe learning disabilities whose behaviour challenges.
Cerebra is a national charity helping children with brain conditions and their families
Our Services